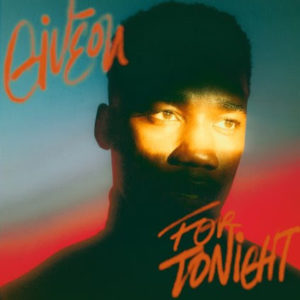 Listen to "For Tonight" HERE via Epic Records/Not So Fast. Watch the official music video HERE!
Check out GIVĒON performing his new single "For Tonight" on The Tonight Show Starring Jimmy Fallon last week.  WATCH HERE
GIVĒON recently announced his "Timeless Tour"! The 14-city tour went on sale September 17thand sold out in a matter of minutes. The tour will kick off on November 28th in Detroit, MI. Additional dates below:
Nov 28 2021- El Club – Detroit, MI, USA
Nov 29 2021- Danforth Music Hall – Toronto, ON, Canada
Nov 30 2021 – Lincoln Hall – Chicago, IL, USA
Dec 02 2021 – Irving Plaza – New York, NY, USA
Dec 04 2021 – Theatre of Living Arts (TLA) – Philadelphia, PA, USA
Dec 05 2021 – Union Stage – Washington, DC, USA
Dec 07 2021 – The Loft – Atlanta, GA, USA
Dec 08 2021 – Republic – New Orleans, LA, USA
Dec 10 2021 – Trees – Dallas, TX, USA
Dec 11 2021 – Warehouse Live – Houston, TX, USA
Dec 15 2021 – El Rey Theatre – Los Angeles, CA, USA
Dec 17 2021 – 24 Oxford – Las Vegas, NV, USA
Dec 19 2021 – The New Parish – Oakland, CA, USA
Dec 22 2021 – Neumos – Seattle, WA, USA
GIVĒON has made himself one of music's brightest stars by bringing vivid color, depth, and soul to songs that capture the intensity of life's twists and turns. After coming to fame via Drake's "Chicago Freestyle," the CA native became a force in his own right. GIVĒON had a whirlwind 2020 after releasing his Platinum-certified "Like I Want You" (230 million cross-platform streams in the US). He kept the momentum with "Heartbreak Anniversary," a gauzy ballad that peaked at #16 on the Billboard Hot 100, garnered over 684 million streams, and earned 2X Platinum status. In March 2020, GIVĒON's debut EP, Take Time, confirmed his evocative songwriting prowess and would be nominated for Best R&B Album at the 2021 Grammys. His fall When It's All Said and Done EP further explored the peaks and valleys of love and, when re-packaged with its predecessor in 2021, hit #5 on the Billboard 200. After being nominated for a 2020 NAACP Image Award for Outstanding New Artist, he won BET's 2021 Best New Artist, and his audience is growing—to the tune of over 1.7 billion streams globally. He even hit #1 on the Hot 100 in March on Justin Bieber's "Peaches." That hit helped him win award for Best Pop Song at the 2021 MTV VMA's where he was nominated for seven awards including Best New Artist, Best R&B and Best Pop Song. Drake then invited GIVĒON back into his world, this time for a sizzling verse on Certified Lover Boy's "In the Bible" with Lil Durk—one of a guaranteed run of thrilling collabs to come. And at his festival debut, Lollapalooza 2021, he found a sea of voices who knew his lyrics. But success has never really been a goal— GIVĒON just wants to bear his soul.