Yesterday, Rolling Loud Miami 2022 announced its headliners. The three-day festival will go from July 22-24 at the Hard Rock Stadium in Florida's Miami Gardens.
It has been five years since K. Dot headlined it. Some people interpreted tweets from Rolling Loud (which got deleted) as an announcement alluding to the release of new music from the Super Bowl LVI halftime performer since it has also been five years since his last LP, Damn.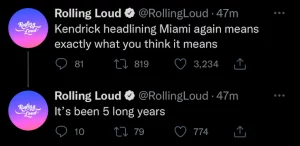 However, the tweets were later deleted and replaced with a new single one which reads, "It's been 5 long years since Kendrick Lamar headlined Rolling Loud Miami." Time will tell whether or not Kendrick will have new material out for the masses by then, but it's certainly something people want. Not only is Kendrick Lamar one of the most celebrated artists of his generation, but it does seem unusual that an artist, even as iconic as him, would headline a festival in which the majority of the material is at least half a decade old.
Kendrick Lamar is headlining Rolling Loud in Miami 🤯

NEW album before then?? 👀 pic.twitter.com/eQBrCDftfw

— NFR Podcast (@nfr_podcast) March 2, 2022