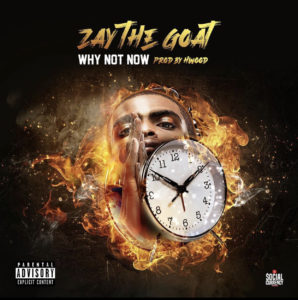 North Carolina's own ZayTheGOAT is a budding star out of Charlotte's mushrooming music scene. He infuses quick-witted bars and bass heavy accompaniment into a stylized rhyme scheme that supersedes mere tonal influence.
Widely-known for composing the viral hit single 'NCCU Anthem', Zay has always been ahead of his time when it comes to the digitally astute. Sonically, he crafts rhythmic bops effortlessly, drawing inspiration from influences like Lil Wayne, Meek Mill, Drake and other pillars of the culture.
The Social Currency Enterprises frontman is slated to make significant headway in the music industry with the release of his genre-bending EP, Why Not Now. Executive produced by the Queen City beatmaker, H-wood, Zay's EP debut explores a range of emotion, divulging into a troubled past that birthed the former college dropout turned rap megastar. With his compelling sentence structure and internet savvy disposition, ZayTheGOAT has managed to develop a close-knit relationship with his growing fan base overtime.
Label execs and industry tastemakers refer to Zay as the 'GOAT' because of his resolve and unyielding work ethic, and it's only a matter of time before the world has familiarized itself with the 20-year-old emcee.
As of late, music has remained the one constant facet of entertainment that has the ability to transcend sound as a healing agent. Moreover, music is therapeutic, a creative release with the dynamic ability to uplift, empower and encourage people around the world, but it's more relatable when you're speaking the truth, your truth – and that's exactly what ZayTheGOAT's debut effort embodies.
While infusing both love and tales from the trenches, ZayTheGOAT expresses his thoughts over layered production, offering perspective on his beliefs, morals and unconventional lifestyle.
In order to chase your dreams, you have to be willing to take risks, and there's no better time than the present, Why Not Now.