Yung Gritty
Yung Gritty's growth on his latest album shows how the artist has developed over the past few years. With many next up, nods from some of Hip Hop's greatest. Who have all chimed in online sharing their thoughts on the young California rapper. Artist such as Kokane, Lazy Bone, and RBX, who is also featured on the album. Some might recall, I interviewed Yung Gritty earlier this year in February at the GrittyArk Studio. That interview can be seen here, on YouTube. At the time of the interview, Yung Gritty and producer prodigy, Vision, were in creative mode. Busy vibing to new production, and shooting a music video. Yung Gritty was lazer focused listening to each track, crafting what would turn out to be, one of the best put together independent albums of the year, in my opinion. Let me share why I say that.
When it was announced the album was out. I went to have a listen, it was released Sept. 14th, 2021, on all platforms. I intentionally took my time letting this album play. Each time listening with a different focal point. Things like, song concept, cadence, flow patterns, and lyrical content. Each time I found myself impressed, even wowed, at Yung Gritty's ability to write songs, and construct impactful verses, and silky hooks, with meaning and style. This album feels special in the sense that, you can just let it play, no skips. Yes, it has it stand out records. Such as, My Struggle ft. Sly Pyper, The Long Way, Never Change, On my Soul and, Broke the Curse. Those are tracks that stand out to me, but the others are just as good. Which make for a solid work of art.
Yung Gritty, hasn't taken any short cuts, he stood tall and has made tracks that speak out about injustices in society. He also has made records that address cultural issues, and held a solid firm line. Respect, honor and integrity make up the fabric of GrittyStyle Ent. and Yung Gritty and team are exemplifying it. Not only in the music, but in their lifestyles and business moves as well. I think it is fair to say, this young artist has checked a lot of the proverbial, Hip Hop boxes. That get spoken about often by some of Hip Hops elite. Yung Gritty isn't just a rapper though, he is an MC. One of the new school, but holds true to the old laws. The balance in his music should be commended and noticed. Spaceship Music Vol. 2 is worthy of adding to any playlist. Check out the album, you wont be disappointed.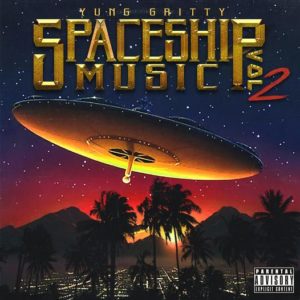 – Peace